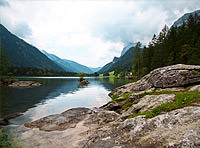 HIKING AND MOUNTAIN CLIMBING

You will find a wide variety of fascinating hiking and mountain tours around Bad Reichenhall: ruggedly picturesque cirques, lonely mountaintops and gentle valleys that will reward you with sensational views.
On the following pages, you will find further information about popular hiking and mountain destinations:


Bad Reichenhall
» Hochschlegel-Dreisesselberg combi-tour
Berchtesgadener Land

» Via the Blaueis glacier up the Schärtenspitze
» From Lake Königssee to the Kärlingerhaus at Lake Funtensee
» Königsbachalm and Gotzentalalm
» Schellenberger Eishöhle (ice cave)
» Schneibsteinhaus mountain tour
» For rainy days: DAV Kletterhalle (indoor climbing wall) at Strub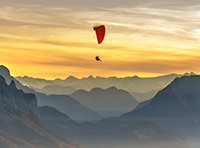 POPULAR MOUNTAINS

Many mountain viewpoints in the Berchtesgadener Land can be easily reached by cable car, car or bus. For families, this is often the best way of traveling in order to enjoy the mountain peaks and their view to the full.
Below you find an overview of the most beautiful mountains in Bad Reichenhall and the Berchtesgadener and Salzburger Land:
Bad Reichenhall
Berchtesgadener and Salzburger Land

» Kehlsteinhaus (Eagles Nest) Berchtesgaden
» Jennerbahn cable car Königssee
» Hirscheckbahn cable car Ramsau
» Untersbergbahn cable car near Salzburg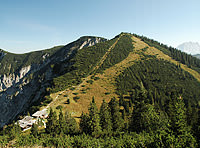 LAKES AND RAVINES

Explore the great diversity of the Berchtesgadener Land on family-friendly or high-alpine hiking trails. Fresh mountain lakes, peaceful valleys, blooming alpine meadows, crystal clear glacier streams and spraying waterfalls create idyllic moments and unforgettable views.


Bad Reichenhall
» Lake Thumsee near Bad Reichenhall
» Aschauerklamm, Schneizelreuth
Berchtesgadener Land
» Lake Königssee, St. Bartholomä
» Almbachklamm and Kugelmühle, Marktschellenberg
» Lake Funtensee in the Berchtesgaden National Park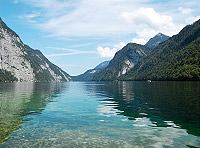 FUN IN THE WATER - PUBLIC SWIMMING POOLS AND SPAS

No matter if in winter or summer - you can either have fun with the entire family or enjoy a day by yourself in a relaxed atmosphere.
You will find just what is right for you in the wide range of public and family pools, indoor pools, swimming lakes and spas:


PUBLIC OUTDOOR POOLS
» Naturbad Aschauerweiher (natural pool) – Bischofswiesen
» Schornbad – Berchtesgaden, Königssee
» Freibad Marzoll (public pool) – Marzoll
» Freibäder (public pools) in Teisendorf and Neukirchen
» Erlebnisbad (water park) Ainring
SWIMMING LAKES

» Lake Thumsee near Bad Reichenhall
» Seebad (Lake swimming pool) Höglwörth
SPAS

» Rupertustherme – Bad Reichenhall
» Watzmanntherme– Berchtesgaden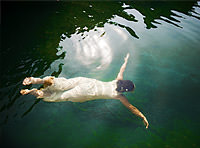 MUSEUMS AND ADVENTURE WORLDS

Particularly on days when the weather is not so great, numerous museums and adventure worlds in and around Bad Reichenhall offer a rich variety to compensate the manifold nature experiences. Apart from documental and historic exhibitions, especially the young family members will get their money's worth in the Salzbergwerk Berchtesgaden (Salt Mine), in the natural park center "Haus der Berge" in Berchtesgaden, in the Heimatmuseum (Museum of Local History) and in the Alte Saline (Old Salt Works) in Bad Reichenhall as well as in the Haus der Natur (Natural History Museum) in Salzburg.
Bad Reichenhall
Berchtesgadener and Salzburger Land
» Salzheilstollen (Healing Salt Mine) Berchtesgaden
» Heimatmuseum (Museum of Local History) Schloss Adelsheim
» Königliches Schloss (Royal Castle) Berchtesgaden
» Bergbaumuseum (Mining Museum) Achtal
» Lokwelt (World of Locomotives) Freilassing
» Enzian Brennerei (distillery) Grassl
» Haus der Berge in Berchtesgaden